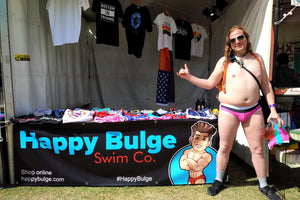 6 months of celebrating everybody... and every body
It was less than a year ago that a couple of us had the idea of setting up booths at Pride festivals and selling products that were silly and fun. Finding a bunch of cheeky T-shirts and swimsuits, the name Happy Bulge Swim Co. was blurted out when discussion turned to a name for this little project.
In early 2019, we started ordering products from different manufacturers and noticed that the models were always big, muscular, ripped guys. Typical, right? The reality is, not everyone has that kind of body. We decided that this little clothing company would represent anybody who likes to laugh and be playful. So, we made an effort to feature guys of all shapes, sizes and backgrounds in our photos on Facebook. And we've been doing that since first launching at Phoenix Pride in April.
So far we've been to Phoenix, Winnipeg, San Francisco and Calgary. (Palm Springs is on deck next month.) At each of these cities we've encountered all different types of guys who got in on the fun of Happy Bulge. Initially, we thought our main audience would be gay men. For the most part, it is. But in each of the cities we met just as many straight guys -- usually with their girlfriends or wives -- who played along and stripped down to pose for pictures right at the booth. Yes, they bought the stuff.
Many, many times guys gave us the line, "I don't have the body to pull that off." That was actually sad to hear. In each city, it happened. What was our response? "If it feels good, rock it. Have the confidence to make yourself feel good, not others." That was usually met with some thought and the guy considering the product that intrigued him. Yes, oftentimes he went home with it, too. The coolest thing has been receiving emails and messages from those hesitant customers that we "converted" at Pride.
There is so much body-shaming and trash-talking in this world that after Phoenix we realized that not only did we want to make money selling these products (duh, right?) but we wanted to celebrate the ability to be carefree and say, "I don't care what people will say, I'll wear it and feel damn good doing it!" At the end of the day, you should be happy. We're trying to help you achieve that.
Thank you for helping make this project a four-time success at Pride. Here's to many more across Canada and the U.S. We're not out to change the world but we are committed to encouraging you to be comfortable to wear what makes you feel good.
Thank you. Keep bulging!
---