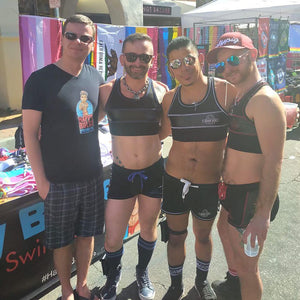 Some things about Palm Springs
Our fifth and final Pride event of the year has come and gone -- much like the people in Palm Springs last weekend! Zing!
With the desert heat and countless pool parties happening all over, we thought Palm Springs was the perfect destination to set up shop and sell some swimwear. And we were right! 
Apparently last year's event was less than stellar with people complaining it was located in the middle of nowhere. The takeaway: Palm Springs Pride really sucked. Well, that's reassuring, isn't it? Eesh. What did we get ourselves into? Either way, the weather was much nicer in California than it was in Canada so at least a positive takeaway from this year would be a tan, right?
We arrived in P.S. on Friday night with suitcases nearly bursting at the seams filled with our original suits and six others recently added to the lineup. We knew our models were doing a good job getting attention on social media but how would the tight-fitting swimwear play to an audience stopping by the booth and browsing at a table? (Fun fact: We were situated almost right across from the vodka tent so that helped drive traffic towards the end of each day.)
When we arrived on Saturday morning our spot was entirely vacant. There was no table for us. We waited 45 minutes for the overwhelmed Pride folks to bring it after multiple requests. Despite them insisting vendors be there for 9 a.m., we were still table-less at 10:15 a.m., with Pride starting at 11. The amount of foot traffic long before that time meant missed opportunities for sales but hopefully we could make up some ground as things officially opened.
Once the table arrived, the Happy Bulge banner hung and the product displayed, we had some early takers ready to celebrate Pride. There were lots of compliments on the Happy Bulge name and people took pictures of our character on the logo. (BTW- He still doesn't have a name.) One of our social media followers said he had been waiting for this Pride so he could check out the product in person and make a purchase. And he did!
Comic Doodles was the hero. It's a cute pattern that's made of thin but surprisingly comfortable material. Most guys said they would wear it as underwear even though it's technically a swimsuit. (Note: It doesn't have a tie so fast swimming is not recommended in this suit as it will likely slide right down even if it is form fitting.) 
There was much love for our custom-designed Cartoon Stars and Stripes swimsuit. We thought this would be a huge seller at San Francisco Pride because it happened a few days before 4th of July. It wasn't. Actually, it was fairly disappointing since we worked hard with a graphic designer and manufacturer to rush a large order of them. The style got tons of love in Palm Springs. In fact, several Canadians hitting up Palm Springs pool parties were outfitted in the patriotic gear. Also, women with their beer-drinking husbands were interested in the American-style suit.
We didn't have quite as many people strip down and pose at the booth as at previous Prides. It was difficult for half-naked photo opps because we had a prime spot with people constantly walking by and checking out the booth. (A good problem to have, right?) There were some guys who were extremely willing to take it off for the camera and get some attention from passers-by.
It seemed like tank tops were in high demand. A large portion of our visitors asked if the T-shirts were available as tank tops. Unfortunately, they're not. Some people did buy them with the idea of cutting off the sleeves to make it work.
We met people from all over the world (lots of Canadians), heard some great stories and saw some interesting looks. There were incredibly creative people in Palm Springs last weekend. Where they came up with their wardrobe and costume ideas is anybody's guess. But, impressive. Very impressive.
Overall, it was a great time at Palm Springs Pride. We're looking at possible destinations for next year. As always, if you have any suggestions for locations or events to attend, feel free to let us know.
Thanks again for your support of our cheeky little project!
---