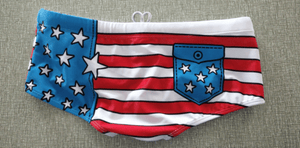 What's new for San Francisco Pride?
Our suits are packed and ready to go. (And we're not talking packed with man junk -- well, they are, but never mind.)
Tomorrow, Happy Bulge sets up shop at San Francisco Pride and it's pretty exciting.
We've got extra inventory on hand of some of our bestselling items and some new items to tempt the boys. Plus, we even have a custom swimsuit specially made for 4th of July since Pride happens just days before. (We've got your flag pole covered!)
Take a look at all of these new items. These are what you should be saving your money for if you'll be joining us in SFO! (But we take credit card too so spend now and worry about it later!) Plus, we'll be offering flash deals on site throughout the weekend. (Flashing at Pride is always encouraged, isn't it?!?!)
We've added some animal patterns with flamingos and jungle creatures, a bright sunshine yellow suit, an Athletic Department brief, plus some fun T-shirts have been added just for SFO. Check out the swimwear collection here.
Remember, most of our inventory is on location during a Pride weekend so availability on the website could be limited. Please be patient if you order and find out shortly after that your item is out of stock. We're still getting the hang of this!
Have a gay day! Happy Pride.
---